A rewarding career in health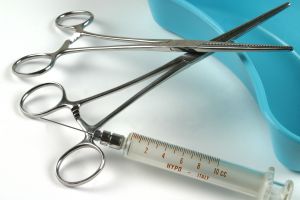 Do you have what it takes to make a real difference to people's lives? Studying health is not just about becoming a doctor. A wide range of specialisations – from nursing and medicine to health administration and alternative therapies - all give you the responsibility of improving quality of life.
And the health sector is exploding – in the US, seven of the twenty fastest growing jobs are in the health industry. Many graduates work in private practices, or become their own boss in their pharmacy or medical practice. Others may work for large pharmaceutical companies, developing new medicines that save lives. Or you may choose to make a difference in your own country or region, educating others to help heal the sick.
Is health right for me?
If you're squeamish at the sight of blood… it probably is not. Even if you are planning on a degree in psychology, you will be exposed to some disturbing things (and possibly disturbing people too).
If you love biology and chemistry, and maybe maths too, if you have good problem-solving and analytical skills, and if you are good at communicating with people of all ages, then read on to find out how you can get the best health degree by studying overseas.
What will I learn?
You need to have a good idea of your area of interest before you apply, as most universities are split into different faculties – the University of Glasgow (UG), for example, has a Medical School, Dental School and Nursing & Health Care Faculty. Once you graduate from medical school at UG, you are eligible to remain in the UK as a postgraduate doctor and study a two-year foundation programme to register with the General Medical Council (GMC).
You may have heard that the UK recently changed visa requirements for International Medical Graduates who want to work in the UK. But, once you have completed your registration with the GMC you should have a good chance of getting a work permit to remain in the UK. Good doctors are always highly sought after!
Nicole Chan recently graduated from the University of Glasgow's School of Nursing. "The work/life balance can be a challenge, but we are taught how to prioritise on the wards, so it is a case of learning to apply that to your life too. The staff work hard to prepare you for placements, so you know what to expect."
Ah, yes, the workload…
Medicine and nursing are some of the more challenging subjects to study, and you can expect to spend many nights poring over chemistry textbooks (no matter where you study). Internships can also be gruelling, with long shifts and the constant demands of a busy hospital ward. You need to be sure that this is what you really want to do before you commit to six years (or even longer) of intensive study.
Making a difference
Cristina Chen is just one international student who has used a nursing degree to make a difference in the world. She graduated with a master of Nursing Science in 1999 from the University of Adelaide in South Australia.
In 2007, Cristina was recognised as one of the 'Ten Outstanding Young Women of the Republic of China' by China Young Corps. She says; "(Adelaide University) gave me the courage and extended my view of nursing. After graduation I went to north of Thailand to assist the prevention of malaria. I have attended international relief in Malawi, Haiti, Republic of Dominic, Sri Lanka and Gambia for medical missions. All of these are because of my lovely teachers and school."
Health is the third most popular subject area to study in Australia. And if you graduate from an Australian Medical School, you can apply for an internship in one of its many public hospitals. There is a clear immigration path for international doctors in Australia, and it has one of the best health-care systems in the world.
Other alternatives
Alternative health and allied health programs are becoming increasingly popular. You could study acupuncture, Chinese medicine, physiotherapy, nutrition and many other non-traditional techniques.
The University of Cincinnati (UC) in the USA has a long history of excellent medical research and tuition. The UC College of Medicine was established in 1819 and has contributed the first oral polio vaccine and the antihistamine Benadryl to the world – amongst many other advances in medicine.
The most recent addition to the University is the College of Allied Health, which offers programs in physical therapy, speech-language pathology, genetic counselling, audiology and much more. Many of its degree programs can also prepare you for further study at Medical, Dental or Veterinary School.
Whatever you health area you decide to study, make sure your school has a good research record and offers some clinical work experience or internships. By combing real-life cases with all that theory, you can become a better doctor, nurse, dentist, vet, clinic manager – or whatever you decide to take on!
To find out more about the wide range of health courses available, speak with one of our student counsellors.
---