Canada needs YOU: live the dream, study at VCC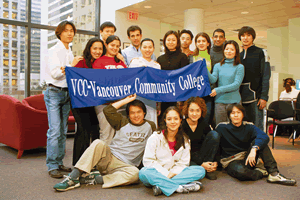 If you're interested in studying, working and living in North America, then Vancouver Community College can help you make that dream come true.
From September 17th 2008, the new Canadian Experience Immigration Class made it even easier for international students in Canada to apply for permanent residence. Foreign student graduates with professional or skilled work experience will have their Canadian study count towards their immigration application.
When Diane Finley, Minister of Citizenship and Immigration, announced the new changes, she said; "Canada will be more competitive in attracting and retaining individuals with the skills we need. It will go a long way in bringing Canada in line with its global competitors while further spreading the benefits of immigration into smaller centres across Canada."
Many courses at Vancouver Community College (VCC) require you to do paid industry placement while you study. With just over a year to go until the Vancouver Winter Olympics in 2010, there are great opportunities for many students speaking foreign languages to get involved. It could be an amazing placement while you study a hospitality management diploma or degree.
VCC offers a wide range of subjects at certificate, diploma or degree level – including business, technology, design and health sciences. Once you've completed your first 6 months of full-time study, you can work off-campus. And once you graduate from an 8-month or longer VCC qualification, you'll qualify for a two or three year Canadian work visa.
Canada is serious about attracting the worlds' best students – and employees. So if you'd like to experience life in one of the world's most liveable cities – and one of the most exciting winter sports events this century – then ask a StudyLink counsellor for more information on courses at VCC.
---