Enjoy the perfect lifestyle at UQ – and a perfect career to follow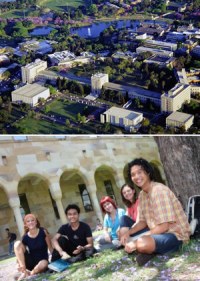 Beautiful one day, perfect the next… that's how many Australians think of Queensland. And just one reason why over 30,000 people moved there from overseas last year. Of course, its high economic growth and job growth are attractive too!
So, it's no wonder that so many international students choose to study at the University of Queensland (UQ) in Brisbane, one of the fastest growing cities in the world.
UQ is one of the most prestigious universities in Australia, and is regarded highly around the world. Its employment rate and average starting salaries are much higher than the national average. In medicine, 100% of graduates gained full-time employment, and the highest reported starting salary was $95,000 for a Mining Engineer.
Sound appealing? Over 7,000 international students from 120 countries think so.
Zhen She studied a Bachelor of Commerce and Economic (dual degree) at UQ and now works as an analyst for Morgan Stanley in Sydney. He says; "It's never too early to start thinking about career options. A good habit is to read the financial press for 10-15 minutes a day to develop an understanding of the markets and what's topical in the global economy."
During his studies Zhen completed an internship with another investment bank, so he had a good idea of what to expect. He attended events run by the FMAA and student societies to learn more about financial companies and their employees, and then applied to various banks online in his final year.
If you'd like to find out more about the courses available at UQ, chat with a StudyLink counsellor.
CRICOS provider code: 00025B
---