Australia: Something for everyone at RMIT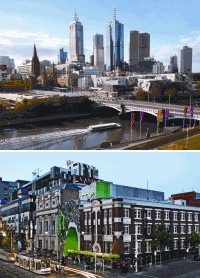 RMIT University is one of Australia's largest universities, and offers a huge range of both vocational and academic programs. In fact, over 470 programs are available for international students.
Based in Melbourne, the creative and cosmopolitan capital of Victoria, RMIT has eight campuses - as well as a new international campus in Vietnam.
For over 15 years, RMIT has developed links with Vietnam through education, business and research in engineering, IT, finance and telecommunications. It opened a Ho Chi Minh City campus in 2001 and a Hanoi campus in 2004. The 3,800 students include those from Vietnam as well all corners of the world.
The cost of an international degree in Vietnam is now more affordable – the quality of teaching is the same, but the fees are almost half and of course the cost of living is lower. Valuable industry connections provide students with networking opportunities, guest lectures and internships. RMIT Vietnam has also granted more than $3million in scholarships over the past 5 years.
The Australian Chamber of Commerce in Vietnam also recently awarded the Best Overall Business Excellence Award to RMIT International University Vietnam for the third time in five years.
With a long history in vocational, or skills based, education, RMIT is highly regarded for providing a practical education. Mohammed Saif Al Saidi, from Oman, is studying a Bachelor of Engineering at RMIT in Melbourne.
"RMIT's strong engineering reputation, and Oman's booming manufacturing industry, are the main reasons I chose RMIT. Because of the program I have also been able to join Engineers Australia and Engineers Without Borders. This will give me valuable professional experience," he says.
So, whether you'd like to receive an RMIT education in Melbourne or Vietnam, ask one of our student counsellors about the wide range of courses and degrees available.
Cricos provider code: 00122A
---