Study abroad: time to realise your dreams!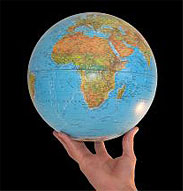 You're reading this because, deep down, you know that studying overseas could change your life. And it will - in so many ways. The places you'll go, the people you'll meet and the things you'll learn. The challenges you'll face along the way will also teach you a lot about yourself. It's not always easy – sometimes it will feel quite daunting – but StudyLink will help you at every step of the way.
This article is about each stage of the journey, and the ways we can help you. So read on to find out how you can achieve your most important New Years' Resolution – to study overseas in 2009 or 2010!
Step 1: Plan, find, compare
It's important to look carefully at all your options. Which country, which course and which university? You can research and compare over 80,000 courses online through the StudyLink website. Make a list of all the things that are important to you – things such as (in no particular order):
Culture, climate, lifestyle
Academic reputation
International student support
Expertise in your subject area or industry
Cost of tuition and availability of financial aid
You can also search through our recent Student Adventures articles for ideas on new courses, provider rankings, scholarships and the unique advantages of studying in different countries. It's a great way to learn more about all the opportunities out there. And don't forget to register for our subject guides, which will give you exactly the information you need if you know exactly what you're interested in studying.
Step 2: Ask lots of questions
Once you have narrowed things down to your top five or so courses or universities, start asking questions. Get free, impartial advice from the StudyLink counsellors by email, or through the online forums. They can help you make the right decision for you.
You can also ask questions through our online chats – talk directly with university representatives, such as the international office or the faculty director.
And you can ask other fellow students questions too – share the knowledge you have all found through our online discussions. You may end up making virtual friends that you will then meet in person during your orientation!
Step 3: It's time to apply
Make sure you know exactly what the admission requirements are, such as IELTS scores and proof of academic results. Check the deadlines too – you need to apply well in advance, so if you're thinking about starting later this year you really should be applying now! Again, your StudyLink Counsellor can help you with all of this.
Many of the institutions listed on the StudyLink website let you apply online, which makes in very quick and simple. You can save your application as you go, and return to it later. Once you upload all your supporting documentation and send the application, the StudyLink counsellor will take care of the rest.
They'll make sure the application is completed correctly, and then track it for you while you wait to hear the result. Think of it as someone on your side, holding your hand, through a part of the process that can be quite nerve-wracking!
Step 4: Success!
Congratulations – you've been offered a place! The countdown is on to your first day at University.
You can now also apply for a scholarship if you're eligible – ask your StudyLink counsellor for more information. You now need to get your visa application underway, and start looking for flights.
There's a lot to do before you go, so check our pre-departure checklist for more information.
Step 5: More culture, less shock
Hopefully your first few days won't be too strange. It's normal to feel some kind of culture shock, but if you prepare yourself well you will find your feet very quickly.
Take advantage of all the great orientation activities – meet the other new students, explore your new town, and remember to keep in touch with your family and friends via email, Facebook or MySpace, or a blog!
And don't forget to let us know how you're doing too – we're still here to help, and we'd love to know how it's going.
Make 2009 the year to realise your study dreams – just talk to us if you need advice on how to get started.
---