Subject guide: Hospitality and tourism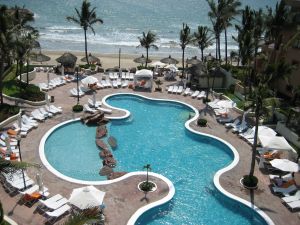 Do you love travelling, learning about new cultures and meeting people? Of course you do – that's why you want to study overseas. But these are also the qualities you need to enjoy a career in hospitality, the world's largest service industry.
There is a growing shortage of well-trained senior managers in the hospitality and tourism industry, so a well-regarded hospitality qualification is a great way to launch your career. And it could take you around the world, working for international hotels, entertainment venues or amazing restaurants.
One of the world's leading cooking schools, Le Cordon Bleu, now offers diplomas, degrees and MBAs in gastronomy, hospitality and management. You can study all over the world, in Paris, London, Canada, Japan, Korea or Australia. In less than a year, you could receive Le Grand Diplôme Le Cordon Blue, internationally recognised by culinary professionals. Or you could study a degree in International Hotel and Resort Management or Business Administration and Gastronomy.
Nikil Sharma, from India, is now a Management Trainee at the Sheraton Hotel in Perth. He says, "I found that Le Cordon Blue has a worldwide reputation. I didn't want a straight MBA, but rather a higher degree with a hospitality industry focus."
It is quite common to combine a hospitality degree with business studies. At the University of Ballarat, the School of Business Services offers hospitality and tourism certificates and diplomas. Students learn kitchen operations, commercial cookery, hospitality management and tourism in state of the art training kitchen and a fully functioning training restaurant.
In the US, Johnson and Wales University provides a unique approach to hospitality and tourism training at its Rhode Island, Miami, Colorado and Virginia campuses. Work experience is a core part of these studies, as well as real-life projects and networking opportunities. Teachers draw on extensive industry experience and use the latest industry software and techniques.
Marny Silfies-Norberg graduated from Johnson & Wales with a Hospitality MBA. She is now Manager of Guest Relations at the Disney Boardwalk Resort and Conference Centre. "Johnson & Wales and Disney share a commonality," she says. "When you are looking for a job, having Johnson & Wales on your resume definitely gives you an advantage over other candidates."
You may also want to combine your hospitality studies with a new language, and increase your international career opportunities even further.
No matter what you do, if you have a passion for travel, food, wine, or people, then you'll enjoy every single day of your hospitality course – and your future career!
For more information on hospitality courses that will suit your needs talk with a StudyLink student counsellor.
---