Building a better world…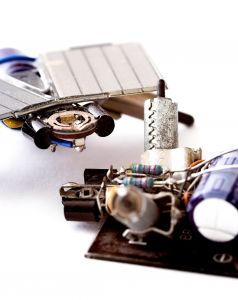 Which engineering course is right for you?
For over two hundred years, engineers have solved the world's problems. They have found better ways to do things, and created the structures, machines and technology that we often take for granted.
If you have a technical or scientific interest, you'll find a wide range of career options as an engineer. And, there is a global shortage of qualified engineers. Driven by the demands of new technologies, new consumer needs, and new problems, over the next ten years this demand for qualified engineers will continue to increase.
In fact, a recent report by the Confederation of British Industry predicts that the UK will need to double the proportion of science and engineering graduates leaving university by 2014, or see those skilled jobs go overseas.
So, what type of engineering course should you study? Civil or chemical? Mechanical or electronic? In this article, we'll explore the latest trends in engineering study.
Focus on your interests
You can choose a general engineering degree to start with, but after your second year you should be able to specialise in a certain field. Many universities offer specifically tailored degrees – the University of Portsmouth, for example, offers an undergraduate degree in Construction Engineering Management, where you will learn the fundamentals of construction (design, soils and materials) as well as legal studies, contract management and project evaluation.
If you're interested in the rail industry, the University of Derby has been training rail engineers for over 150 years. And with the launch of Eurostar's new high-speed rail network from St Pancras Station, this region of the UK lies in the heart of a new 'golden age of the railway'. Civil and infrastructure engineering degrees are taught in the University's new Markeaton Street campus, and offer great networking opportunities with local companies such as Bombardier and Rolls Royce.
Engineers can save lives
Nanotechnology combines engineering skills with medical break-throughs. It will provide earlier, better diagnosis, and precisely targeted treatments. It could change the technology we use to treat patients forever.
It is also a truly multidisciplinary research practice, bringing together teams of mechanical and electronic engineers, medical researchers, biologists, physicists and chemists.
Find new ways to power the planet
Many engineers, from all specialisations, are involved with sustainable energy projects. Will we run out of power? How can we meet current carbon emission targets? How can we stop energy prices from rising? Engineers can meet these challenges, finding alternative sources of energy and ways to reduce emissions from carbon-based fossil fuels.
Growing importance of management skills
Although engineering is a technical subject, many companies expect their engineering graduates to be good business managers as well. Engineering projects required careful process management, as well as client and team management, for success. So many engineering students are choosing a combined engineering and management degree, or studying post-graduate management programs such as MBAs.
Engineering studies around the world
Engineering is offered at universities and colleges around the world, and many countries have increased their programs to meet growing demand for graduates. But is quality being sacrificed for quantity? Make sure your engineering program is accredited by a recognised industry body such as the Institution of Mechanical Engineers.
Be aware that each country defines 'engineering' differently as well. The US is the most popular destination for international students studying engineering (followed by the UK and Germany). But China and India produce more than ten times the number of engineering graduates as the US. The difference could be misleading – China's engineering programs include two-year vocational programs such as car repair.
No matter where you choose to study, adding language skills to your degree can also improve your job prospects, with multinational companies looking for talented global employees.
Not just for the boys
Engineering and science are no longer male-dominated subjects. At NYU-Poly, half of the students in the chemical engineering program are women. Cherry Chen, originally from Tianjin in China, is just one of the many talented women on the progam.
At the age of 16, Cherry moved herself to New York, finished high school and learned English. She met a representative from NYU-Poly while still at high school. "I always knew I wanted to study engineering," she says. She joined the first chemical and biological engineering class at Poly, and hasn't looked back since.
Now a Promise Fund scholar, Cherry works part-time at a local doctor's office and as a research assistant in the faculty. She is currently deciding between postgraduate study at Johns Hopkins and Columbia University. "I predict Cherry will be a leader in her field," says Cherry's NYU-Poly professor. "She has the brilliance… the fire of intellectual curiosity and a wonderful work ethic."
Engineering future leaders
Engineering is an excellent foundation for an executive level career, and you'll find qualified engineers in boardrooms across a wide range of organisations – from banking and finance to government agencies.
Kaushi, originally from Sri Lanka, is studying a Civil Engineering Degree at Monash University. She was recently selected for the faculty of Engineering's Leadership in Technological Environment Program.
This program is designed to challenge and extend students, giving them to opportunity to learn from industry leaders and network outside the classroom. It includes workshops, external modules on leadership skills, and regular seminars.
Kaushi hopes to experience some hands-on examples of engineering, while meeting other students, academics and potential employed. "The most exciting part is being able to meet and befriend other students, and it will help me broaden my knowledge of the world," she says. "It's such a privilege – I consider it a lifetime opportunity."
No matter what, or where you choose to study, that opportunity can also be yours. If you need further ideas and inspiration about studying engineering, just contact one of our student counsellors.
---