Learning the laws of the world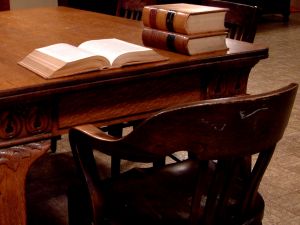 So you want to be a lawyer. Or a solicitor, barrister, attorney. Or you want to fight for human rights, or negotiate complex business deals.
You'll need a law degree. But laws are different in every country – so is studying law abroad a good idea?
Yes - especially if you want to practice Common Law, or English Law, somewhere in the world. Make sure you find the right law degree for you, with this guide to studying law overseas.
Step 1. Where do you want to practice law?
Make sure your law qualification is recognised in your own country. If you want to work in Singapore, India, Malaysia New Zealand, Canada, Australia, the UK and many other countries, Common Law is the basis for your legal system. For other countries, you may need a bridging qualification before you can practice as a lawyer.
Step 2. Are you sure law is right for you?
Law degrees are challenging and long –you may need to study a pre-law degree, or a separate undergraduate degree, before you can even start law. So make sure you have the right skills and interest first.
To be a good lawyer, you need to be able to analyse and argue a case. Reasoning and debating skills are essential. Good written and verbal communication – writing a legal document or persuading a jury – are also important. You'll also be spending a lot of time reading and researching.
Step 3. Work out what kind of law degree you need
Typically, in the UK or Australia, you'll study an LLB (Bachelor of Law) as an undergraduate, and combine it with another degree, such as business or humanities, for a double major.
In the US, you need to complete a JD (Judicial Degree) first, and the progress to an LLM (Masters of Law) as a graduate.
You can also study an LLM in Europe. This is becoming increasingly popular, as it gives you a global perspective on law, and allows you to specialise in areas such as human rights and democracy, environmental law or international law.
The Financial Times Report on Global Legal Education in 2008 listed IE Law School as one of the top 3 law schools in Europe. It offers undergraduate (LLB) and postgraduate (LLM) degrees in either English or Spanish – or both!
Maria Litzell is Vice-President of Marketing at the European Law Students Association (ELSA). She says; "Our view is that US LLM programs are more commerce-based than in Europe. The US curriculum emphasises the importance of business-vocational training, while in Europe criminal law, human rights and EU institutions are of better quality than the commercial law programs – except for law schools in London."
Step 4. Think about your specialisation
You certainly don't need to be a lawyer to use your law degree. Many leading business people, journalists, politicians and teachers hold a law degree.
Some popular specialisations include criminal law (including forensics and psychology), commercial law (including property, IT and intellectual property, taxation, health and mergers), constitutional law (government policies), international law (cross-border negotiations), environmental law and human rights law.
So think about what interests you the most, before you choose your law school.
Step 5. Finding the right school
If you want to convert your non-law degree into a law qualification, the BPP Law School in London offers a range of courses to help you. The GDL is a professional qualification that allows you to progress to the Legal Practice Course (LPC) and become a solicitor. Student Jennifer Chan says, "As a BPP student you are guaranteed a place on the LPC, which takes the pressure off somewhat."
The University of NSW is one of Australia's leading international universities, and also has a top-tier law school.
Jason Lee is now a lawyer with Singapore firm Freshfields Drew and Napier. After completing his undergraduate law degree at Kings College in London and five years of legal practice, he decided to study a Master of Laws at UNSW.
"I always had a keen interest in IT and telecommunications law. UNSW Faculty of Law was an obvious choice, especially with its option to specialise in Media, Communications and IT Law. And Australia was an affordable destination and close to home."
These are just two options – there are thousands of great law schools around the world to choose from. So, to find out more about studying law overseas, just talk with one of our student counsellors.
---