USA: Ohio forges international friendships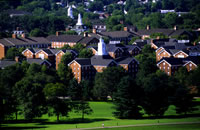 Hyeran Chung, from South Korea, is a freshman at Ohio University's College of Business, majoring in finance. As an international student, she says "we're different, so we can sometimes be isolated. To me, to say hello to a native English speaker is very difficult, so I was scared to meet an American student."
It's a familiar story for new international students. So the College of Business has recently introduced a new international mentoring program.
Now Hyeran regular exchanges text messages with fellow American student, Jay Simmons. They meet up for a coffee, and talk about their own interests and hobbies – from Ohio sightseeing ideas to Korean karaoke. Hyeran says all international students could benefit from having a mentor.
For Jay, who grew up in Ohio, it's a way to learn about the world. He helped establish the program, and hopes that all students will eventually join in. More than 50 international students, including those studying intensive English, are already involved, with 25 business student mentors.
Emily Burhans, from the University's Center for International Business Education, says, "The program removes cultural barriers – friendships form between people who might otherwise never meet."
Ohio University is one of the oldest in America, founded in 1804. The College of Business was ranked amongst the top 50 business schools in the US, in Business Week's 2009 List.
The College is highly regarded for its small class sizes, personal attention from professional teachers, computer resources and the 'Executives on Campus' program, where over 60 business leaders visit the campus each year to meet informally with students and staff.
Competitive merit scholarships are awarded to international students, ranging from $1,000 to $1,500. Graduate Assistantships are also available, providing full or partial tuition scholarship, plus a stipend.
To find out more about studying at Ohio University visit our website at www.ohio.edu/ouinternational.
---