Canada: Sauder kick-starts your Canadian business career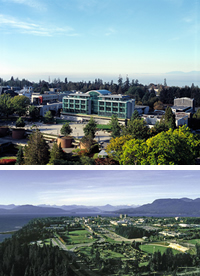 The Sauder School of Business at the University of British Columbia (UBC) is certainly a business school like no other.
Regarded as Canada's leading business school it has an excellent reputation for research, learning and global partnerships. But it's campus location, just 30 minutes from downtown Vancouver on Canada's west coast, is also breathtaking.
Snow-capped mountains meet the sea and forests, views abound, and some of the city's best attractions are right on campus.
Vancouver has been ranked as the world's most liveable city, and its pacific-rim setting provides an excellent perspective on global business. The school's 29,000 alumni work in over 70 different countries.
They also work in leading companies throughout Canada. As one marketing graduate remarks, "If you're looking to settle in Vancouver and break into the job market here, the UBC MBA does an excellent job of providing you with industry contacts."
Arvind Ramakrishan finished his MBA in 2005, and is one international student who chose to settle in Vancouver. Originally from India, Arvind says that furthering his education in another country was "the best decision I ever made."
"I needed to have a bit of patience and work gradually towards the job of my dreams (in Vancouver)," he recalls. "I spent just over a year with a local software company, and made sure I did a good job to get recognised. That ensured I got permanent residency within the timeframe, and also gave me time to network and look around."
An MBA from UBC gives you the chance to challenge yourself, learn new leadership skills be more confident in your decisions, and develop life-long friendships.
It also represents excellent value. Tuition is less than other top-ranking Canadian MBA programs, and is also shorter than most at only 15 months. Plus, all students are required to undertake a paid summer internship for between 8 to 12 weeks – in 2007 92% of students acquired an internship with an average salary of CAD3,500 for paid positions - that's a useful financial boost halfway through your studies.
Email the school to find out more about the range of business programs available at the Sauder School of Business.
---