Enhance your business career at Westminster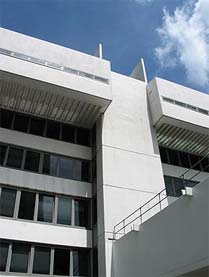 Westminster Business School provides professional and supportive postgraduate business education with an international flavour.
Located in central London, Westminster Business School delivers internationally focused master's level education in all the major business disciplines, including the MA International Business & Management.
WBS is a Centre of Excellence for the Chartered Institute of Personnel and Development.   Students who successfully complete the MA Human Resource Management or the MA International Human Resource Management may also become affiliates of this professional body.
The MA Marketing Communication and MA Marketing Management attract students from all over the world.  The course material is delivered by marketing and advertising practitioners as well as highly qualified marketing tutors.  Successful completion of these courses will also provide links into the Chartered Institute of Marketing.
Postgraduate finance education is supported by a 20 station Financial Markets Suite which simulates trading floor facilities.  The MSc Investment & Quantitative Finance enables students to become competent in Risk Management evaluation and financial assessment.  The MSc International Finance provides the opportunity to obtain a dual award by studying one semester at CERAM in Nice, France.
The new MSc Applied Economics not only provides economic knowledge but also the evaluative and communication skills necessary to become a professional economist throughout the world.  This course draws on the expertise of the Government Economic Service to support its delivery.
Guided by its new Dean, Prof. Jean Woodall, Westminster Business School continues to provide postgraduate education designed to help you enhance your career by developing your knowledge and understanding.
For further information please visit www.westminster.ac.uk/wbs or email Jon Pike (Director, Postgraduate Studies) on [email protected]
---