Who wants a successful business career?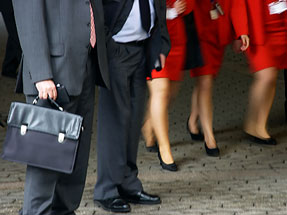 So you want to succeed in business. Whether that's by managing a multinational corporation, wheeling and dealing on the stock market, or running your own business, what is the key to this success? Is it the number of degrees you have, where you study, or how you start your career?
In this subject guide, we look at five key elements to having a successful business career – right now.
1. Finding the right course
There are many different types of business programs, all around the world. Undergraduate, post-graduate, and of course the MBA. So you need to spend time researching all the options to choose the best course for you.
Most undergraduate degrees give you two or three years of general business education, and the option to specialise in the last years in subjects such as finance, marketing or accounting.
Some universities offer even more specialised areas of expertise, such as corporate social responsibility, East Asian Studies or e-commerce.
When Na Xu chose her course at the University of Salford, she was looking for a strong grounding in finance and accounting, but also the chance to learn to speak English fluently. This has led her to a career as an English Anchor in the media sector of her home country, China.
Jinho Lee has worked as a stockbroker in the Korean equity market for the past four years. He is now starting an MBA at the prestigious Wharton School in Pennsylvania. Spending time choosing the right school was crucial to his successful application.
"There is always a right fit," he says. "The only problem is that we do not make the effort to assess who we are and what we want. We want good results, without completing the work upfront." 
He admits that the GMAT was the toughest parts of his application. "It took me more than a year to prepare. But preparation for an MBA is a lifelong path to follow as one grows."
2. Specialise or generalise?
You may be surprised to hear that there is more to business masters programs than the MBA.
"The MBA is a generic management program, an opportunity for personal development, a broad introduction to all management subject areas," says Carol Blackman of the UK's Westminster School of Business.
"Specialist masters programs are designed for career preparation in a clearly defined job or profession."
So if you know exactly what career path you wish to follow, a business masters in a specific subject – such as applied finance, IT management and systems, hospitality management or even design and fashion – could result in career success, faster.
3. There's more to life than business theory
When it comes to finding a job, specialist knowledge is not always enough.
A survey by the UK's Association of Graduate Recruiters confirms that employers look for 'the personal skills that make graduates valuable employees.' These skills include motivation, enthusiasm, interpersonal skills, teamwork ability and good spoken communication.
So look for a course that will also develop your personal skills in these areas. Rocio Roque, from El Salvador, is studying her business major at De Anza College in San Francisco. "My experiences have shaped my personality," she says. "When I have problems, I've learned to work to overcome them. I think in the future I'll be able to overcome challenges and make the best possible decisions."
Studying abroad can be challenging – and that in itself will give you the confidence you need to be a valuable employee.
4. Make the most of business opportunities
Good business schools and courses give you the chance to network with local industry leaders, meet and learn from business managers and real-life case studies, and work on internships.
These often give you to opportunity to start your graduate career. So collect business cards, ask questions, and follow up with people you meet. It's your chance to impress your way into your new career.
Mariam, from Germany, is studying a Masters of International Business at the University of Sydney.
She found the University's Mentoring Program a huge support. "Research, help with group assignments and report writing, free courses – plus it's a great way to meet people. Coming here was the best decision I've made so far"
5. Challenging times, or exciting new beginnings?
Studying business now isn't just about taking shelter while the global economy sorts itself out, and investing in new skills. It's also a chance to be part of the solution.
This downturn has been so profound that there is a fundamental change in key areas such as corporate social responsibility, sustainability, corporate governance and the relationship between government and business.
An MBA Dean in the US says; "The MBA classroom has never been so vibrant, because we have thrown away the textbook. You have real-life cases happening around you."
The definition of business success may be quite different in years to come.
For more information on studying business, talk with one of our student counselors.
Or, if you know where or what you want to study, start searching the StudyLink database of over 10,000 business courses that you can study in Australia, study in the USA, study in the UK, and many other countries.
---