Canada: Learn French cuisine in North America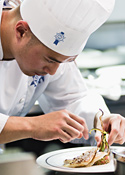 If you dream of running your own fine dining restaurant, or creating exquisite taste sensations for special occasions, then Le Cordon Bleu Culinary Arts Institute has course for you.
You can study classic French cuisine or patisserie at more than thirty destinations around the world with Le Cordon Bleu Culinary Arts Institute. Its North American hub campus is in Ottawa, the beautiful capital city of Canada.
Learn from highly skilled French chefs, many from Michelin-starred restaurants, in a Tudor-style heritage mansion equipped with five state-of-the-art kitchens. You'll also be able to experience the in-house restaurant, Signatures Restaurant, which has been awarded a Five Diamond rating from the Canadian/American Automobile Association.
Although many Le Cordon Bleu students already have some culinary experience, a large number come from a wide range of professional backgrounds such as banking, technology or the arts. After graduation, their new career could find them in restaurant kitchens, catering, restaurant and hotel management, journalism, consulting, food service, food styling and education.
A recent Le Cordon Bleu Ottawa graduate served President Barack Obama and Canadian Prime Minister Stephen Harper with a flavour-filled Canadian lunch during the US President's first visit to Canada in February. Jonathan Collins received his Cuisine Diploma in 2006, and now owns and is Executive Chef of Shutters on the Beach Restaurant in Port Bruce, Ontario.
Jonathan says, "Starting a career at this culinary school is a pass to the front of the line. A membership to a fraternity of chefs around the world."
To find out more about the courses available at Le Cordon Bleu Culinary Arts Institute, visit their website.
---