Top Ten reasons to study by distance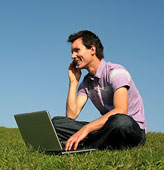 Online technology has made studying from home a real alternative. So is distance learning right for you?
Find out with our top ten reasons to take on a distance learning course.
1. Study when you want, where you want
All you need to access to the internet, and you can study in your bedroom, in your office, on the beach… If you think better at night or in the early morning, schedule your coursework to suit you.
2. Fit your study around your work commitments
You don't have to give up your job or put your career on hold to get a world-class international education. This could be especially important if you want to study an MBA or Masters degree.
3. Fit your study around your family commitments
You also don't have to move your family abroad to get a world-class international education.
4. Work at your own pace
Fast-track your way through the course, or repeat the modules until you understand them. It's completely up to you.
5. Save money!
You won't need to pay for airfares, student accommodation, student visas and living expenses – and your tuition fees are often lower.
6. Make the most of technology
Distance learning is completely different to on-campus learning – and there are real benefits in the technology we now use.
Podcasts allow you to view lectures or video source material as often as you want, you can have live video conferences with your tutors, live online discussions or forums with other students or research groups, and access university library resources and research materials online.
7. Moving around?
No matter where you are and where you're moving to, you can keep your studies going with no disruptions.
8. Same internationally recognized degree…
You'll study the same course material, with the same teachers, to the same standard, and receive the same qualification, as your on-campus colleagues.
9. Choice and flexibility
You can study just about anything online, from degrees to diplomas and IELTS certification. Many universities allow you to build up individual modules to a qualification, or just study any unit that sparks your interest.
10. No barriers to entry
In some cases, you may find it easier to enrol through distance learning. For a start, you won't need a student visa. There are usually flexible entry dates, so you don't need to worry about application deadline. If there are no class quotas, courses are always open.
Some universities have no entry requirements, or do not require English language proficiency tests. This can give you a unique chance to study, a chance you may otherwise not have.
Distance learning courses vary considerably in quality and style, so it's important to understand exactly how it will work for you. Take the time to research your course and use the StudyLink forum to talk to other students who have studied there.
If you'd like any further information on how you can study through distance learning, you can also talk with one of our student counsellors.
---