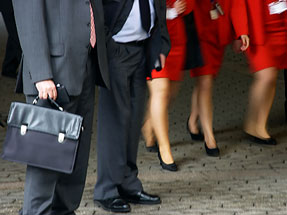 So you want to succeed in business. Whether that's by managing a multinational corporation, wheeling and dealing on the stock market, or running your own business, what is the key to this success? Is it the number of degrees you have, where you study, or how you start your career?
In this subject guide, we look at five key elements to having a successful business career – right now.
1. Finding the right course
There are many different types of business programs, all around the world. Undergraduate, post-graduate, and of course the MBA. So you need to spend time researching all the options to choose the best course for you.
Most undergraduate degrees give you two or three years of general business education, and the option to specialise in the last years in subjects such as finance, marketing or accounting.
Some universities offer even more specialised areas of expertise, such as corporate social responsibility, East Asian Studies or e-commerce.
When Na Xu chose her course at the University of Salford, she was looking for a strong grounding in finance and accounting, but also the chance to learn to speak English fluently. This has led her to a career as an English Anchor in the media sector of her home country, China.
Continue reading "Who wants a successful business career? " »