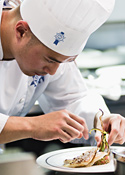 If you dream of running your own fine dining restaurant, or creating exquisite taste sensations for special occasions, then Le Cordon Bleu Culinary Arts Institute has course for you.
You can study classic French cuisine or patisserie at more than thirty destinations around the world with Le Cordon Bleu Culinary Arts Institute. Its North American hub campus is in Ottawa, the beautiful capital city of Canada.
Learn from highly skilled French chefs, many from Michelin-starred restaurants, in a Tudor-style heritage mansion equipped with five state-of-the-art kitchens. You'll also be able to experience the in-house restaurant, Signatures Restaurant, which has been awarded a Five Diamond rating from the Canadian/American Automobile Association.
Continue reading "Canada: Learn French cuisine in North America " »