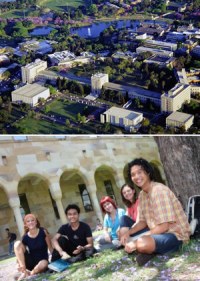 The University of Queensland has introduced a three-year degree program that can open doors to a wide range of health careers.
The Bachelor of Health Sciences (CRICOS code: 055897K) is an innovative, undergraduate program developed in consultation with the Australian health sector. The degree has been designed to be highly relevant to today's health environment, where childhood obesity, cardiovascular disease and other 'lifestyle' induced health problems are in epidemic proportions and where there is a shortage of both clinical health professionals and health prevention experts.
It provides a broad overview of healthcare in areas such as biomedical sciences (e.g. anatomy, physiology, and psychology), the business of health (e.g. health systems) and preventive health (e.g. health promotion, nutrition and physical activity, and behavioural change). To ensure graduates of this degree are "job ready", all students undertake an industry placement program which provides hands-on experience and an insight into future career options.